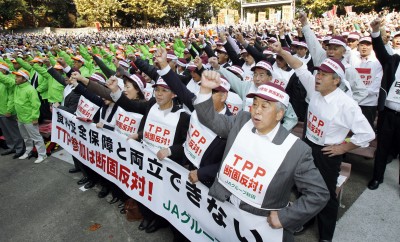 Jiji Press | 2013/03/11
Hokkaido farmers rally against Japan's entry to TPP talks
Sapporo, March 11 (Jiji Press)—Farmers in the northernmost Japan prefecture of Hokkaido held a mass rally on Monday against the country joining Trans-Pacific Partnership free trade negotiations.
About 1,500 farmers including members of the JA Hokkaido Chuokai of the Japan Agricultural Cooperatives group took to the streets of Sapporo, the prefectural capital, to protest any decision by Prime Minister Shinzo Abe for Japan to join the U.S.-led free trade talks. Abe is expected to announce by the end of this week Japan's participation in TPP talks.
"A hasty decision to enter TPP talks would betray the trust of the people," protesters said in a resolution, adding that "we will continue fighting in a united way until Abe gives up on Japan's entry."
Fujio Yamada, who heads the Hokkaido Farmers' Union, said that there have been absolutely no explanations about how TPP would affect Japan's food self-sufficiency rate.
"The fate of the country hinges on food," he warned.