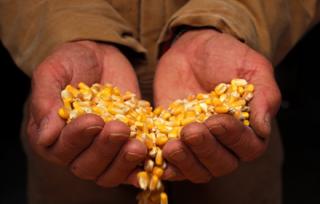 Dow Jones Newswires 11/03/2011
Argentina readies corn exports to China
By Chuin-Wei Yap
Argentina hopes to start exporting corn to China in a few months but is still finalizing details of a bilateral market access agreement, a senior Argentinian official said Thursday.
Soaring feed demand and depleted corn reserves have brought China back to the global grain market after a 15-year hiatus, and Argentinian authorities have been trying to cement agreements to supply the world's second-largest corn consumer.
Lorenzo Basso, Argentinian Secretary of Agriculture, Livestock and Fisheries, told reporters that he hoped the bilateral pact would be signed by the end of the year, which would free China's potentially massive corn market for Argentina.
The U.S. dominates China's corn trade—it accounted for 97% of the market in the first nine months this year. Argentina is the world's second-largest corn exporter after the U.S.
China is only the U.S.'s eighth-largest import market by volume globally, mostly due to Beijing's reluctance to give up its policy of grain self-sufficiency.
But its demand is expected to rise quickly. Last year, China's corn imports grew 17 times over 2009 to 1.6 million metric tons. The state-backed China National Grain and Oils Information Center estimates this demand could reach 5 million tons this crop year that began Oct. 1.
Argentina is keen on getting a foothold in the market, for which a bilateral phytosanitary agreement is needed to govern food safety and plant health.
"We should be able to sign the agreement [with China] by the end of the year," Basso said.
Bilateral trade could commence by March 2012 at the earliest, he said.
He also said Argentina is expected to harvest about 25 million tons of corn next year, of which 15 million tons would be available for exports.
A trade spat last year brought Argentinian agricultural exports to a halt but Argentina has sought to smooth relations, sending multiple high-level trade and diplomatic missions to Beijing this year.
Chinese companies, including farming giant Heilongjiang Beidahuang Nongken Group, are also working on land deals to develop agriculture in Argentina.
Earlier this year, Beidahuang signed an initial agreement with Buenos Aires-based Cresud SA (CRESY) on cooperation in land purchases.
Basso declined to comment on a similar deal for Beidahuang to develop farmland in Argentina's Patagonian Rio Negro province, saying the provincial government was taking the lead, but added that he understood the deal was "just in exploratory stages."