"Don't trade away our lives"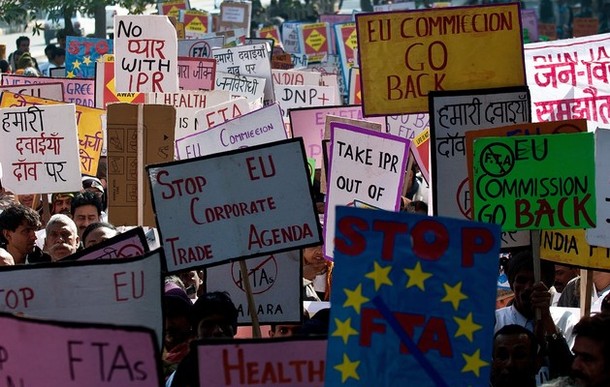 The Hindu | NEW DELHI, February 11, 2012
"Don't trade away our lives"
Staff Reporter
As India and the European Union met for a summit here on Friday to iron out differences over a free trade agreement, a large number of people living with HIV took out a protest rally from Mandi House to Parliament Street warning against "harmful provisions" in the agreement that could have a severe impact on access to affordable medicines for people in developing countries.
"Whether we get to live or die should not be up to trade negotiators. We're all here today with one clear message to India and the EU: 'Don't trade away our lives'," said Mundrika Gahlot of the Delhi Network of Positive People.
"India produces quality affordable generic medicines that governments, UN agencies and the international medical humanitarian organization Médecins Sans Frontières (MSF) rely on for the treatment of millions of people," added Ms. Mundrika.
Because of the competition among generics producers in India, the price of first-line HIV medicines has dropped by more than 99 per cent since 2000.
This significant price decrease has supported the massive expansion of HIV treatment worldwide. More than 80 per cent of the HIV medicines used to treat 6.6 million people in developing countries come from Indian producers, and 90 per cent of paediatric HIV medicines are Indian-produced. MSF and other treatment providers also use Indian generic medicines to treat other diseases and conditions.
Existing trade rules already limit the possibility of making generic versions of new medicines, but the EU-India FTA threatens to make this situation even worse, by creating new intellectual property (IP) barriers, noted protestors.
"This trade deal would go far beyond what India has agreed to at the World Trade Organisation. The EU wants India to agree to IP enforcement measures that could block medicines at Indian ports on their way to patients in other developing countries, and could even draw treatment providers into court proceedings. These provisions are designed to delay the entry of generic producers into the market and will adversely affect the right to health of patients not only in India but across the developing world," said Lawyers Collective HIV/AIDS Unit director Anand Grover.
---