FTA Watch and allies reject JTEPA
FTA Watch (Bangkok) | 3 April 2007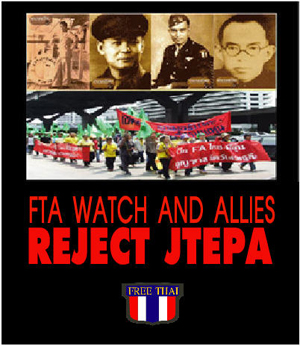 STATEMENT
FTA Watch and Allies Reject JTEPA
Today is a day of the deepest shame for Thailand and the Tai people. The coup-installed government of Gen Surayuth Chulanon has decided to sign a free trade agreement with Japan. This is in spite of the nation-wide impact that this agreement will have on the environment, biological resources, farmers, patients, small businesses and the majority consumers of health services. Moreover, the agreement is in total contradiction to the development path based on the sufficiency economy philosophy, which the government has declared to be national policy.
Today is the day when this government's behaviour is shown to be almost no different from the economic policies favouring vested business interests of Thaksin Shinawatra. The decision has been made in a secretive and non-transparent manner, without the participation of the people. Almost all existing political institutions have failed and have betrayed the trust of the public. Even the interim Constitution of 2006 has been violated by the decision of the Cabinet to sign an international agreement without parliamentary approval.
FTA Watch and its allies call upon at least 20 members of the National Legislative Assembly to petition the Constitutional Court for an interpretation of the constitutionality of the signing by this government of the Japanese-Thai Economic Partnership Agreement. This is the last opportunity for the National Legislative Assembly to redeem the shameful capitulation of its Chair and the majority of its Members by discussing the Agreement on 15 February 2007 without any resolution and without even setting eyes on the 942-page document.
We insist that JTEPA as signed by the government today is null and void. We reject it and refute any obligations it places on the Thai people. This agreement does not symbolize good relations between the two countries, but represents oppression by large-scale transnational capital, which conspires with some factions of domestic capital and the coup-installed government to destroy small businesses and harm the majority of the Thai people. In this regard, it is no different from the agreement signed by Field-Marshal P Phibulsongkhram, which made Thailand a vassal of the Japanese government in the past.
FTA Watch and its allies — the Alternative Agriculture Network, the Network of People Living with HIV/AIDS, the Consumers Network, and the Four Regions Slums Network — will mobilize nation-wide support of the Thai people for appropriate amendments to, or cancellation of, this illegitimate agreement as soon as possible, just like the mobilization of the Free Thai Movement for national independence.
3 April 07
FTA Watch
Alternative Agriculture Network
Network of People Living with HIV/AIDS
Consumers Network
Four Regions Slums Network
---