Indonesians protest government's first 100 days
Indonesian activists and students protest holding a banner reading, "Change the regime, change the system" (AFP)
Agence France Presse | 28 January 2010
Indonesians protest government's first 100 days
By Arlina Arshad (AFP)
JAKARTA — Thousands of Indonesians took to the streets Thursday to condemn corruption and demand the resignations of key ministers on the 100th day of President Susilo Bambang Yudhoyono's new government.
Demonstrations were held across Jakarta and other cities including Surabaya, Makassar and Ambon, where protesters tried to storm the governor's office and burned a poster of Yudhoyono.
Scuffles broke out with police in several places including Palu, in Central Sulawesi, and the wealthy Menteng suburb of Jakarta, where opposition party supporters set fire to tyres in the middle of a busy road.
About 10,000 people from a cross-section of civil society, student and labour groups gathered at various locations across Jakarta to shout slogans against graft and perceived mismanagement in Yudhoyono's second and final term.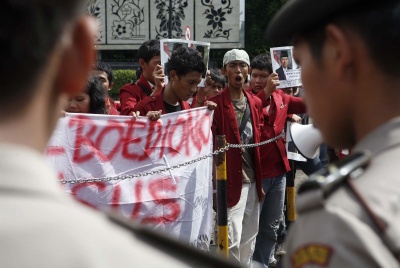 Others pilloried a new regional free trade agreement with China, as well as "neo-liberal" economic policies personified by Vice President Boediono, a former central bank chief.
Many called for Boediono and Finance Minister Sri Mulyani Indrawati to step down over a controversial bank bailout in 2008. Some protesters were seen carrying axes and the severed "heads" of the two ministers.
Banners displayed by labour activists at the parliament read "Change the regime, change the system" and "Reject SBY" — a reference to the president's nickname.
"In 100 days, have we tasted the fruit of our labour?" shouted a protester with a loud speaker. The crowd replied with a resounding "No."
Workers expressed fears the free trade area (FTA) between China and six founding members of the Association of Southeast Asian Nations (ASEAN), which took effect this month, would result in factory closures and job losses.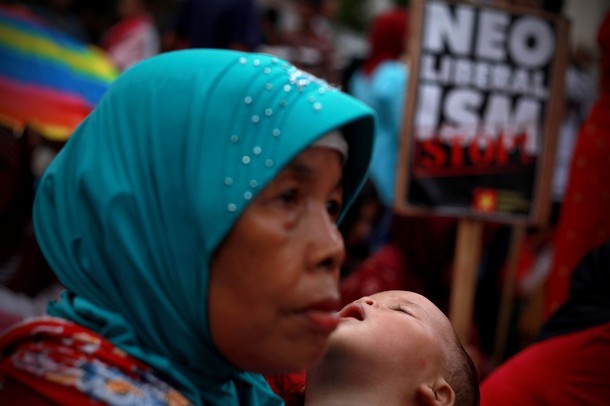 "The ASEAN-China free trade agreement is what you get from a government that is neo-liberal and capitalistic," rally coordinator Agus Supriyanto told reporters, even though the agreement was initially signed back in 2002.
"We reject the ASEAN-China FTA. We'll lose our jobs, we can't compete with cheap Chinese products."
Other groups vented their anger over a series of corruption scandals that have swamped the rainbow coalition government since it was sworn in in October following Yudhoyono's thumping election win in July.
Yudhoyono left the capital to inaugurate a power plant in Banten, West Java, part of a broader attempt in recent days to trumpet the government's purported achievements in kick-starting infrastructure projects.
He called for demonstrations to be peaceful and raised the spectre of the bloody 1998 riots in Jakarta which presaged the downfall of the Suharto dictatorship.
"Don't destroy anything, start fires or occupy places by force. That would be like a return to Jakarta in 1998. Our nation will move backward, people will suffer, the economy will become paralysed," he said.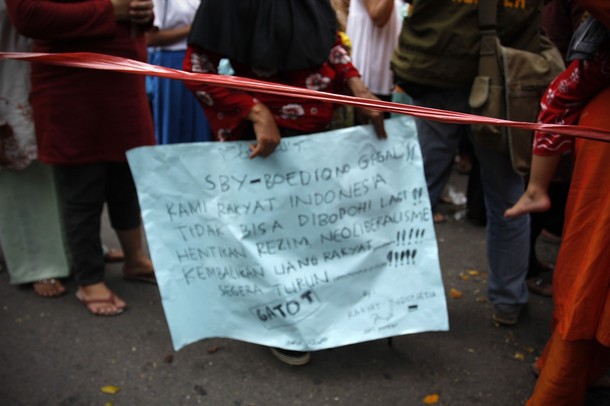 Opinion polls show Yudhoyono's image has suffered after the recent corruption revelations, but the mild-mannered ex-general still remains extremely popular with approval ratings of up to 70 percent.
Transparency International's Corruption Perception Index in 2009 gave Indonesia a score of 2.8, a slight improvement on 2008 but not enough to lift it from the ranks of most corrupt countries in the world, the watchdog said.
"There have been no significant results in corruption eradication. In fact, SBY has allowed the weakening of anti-corruption institutions that were already effective," Transparency's local representative, Teten Masduki, said this week.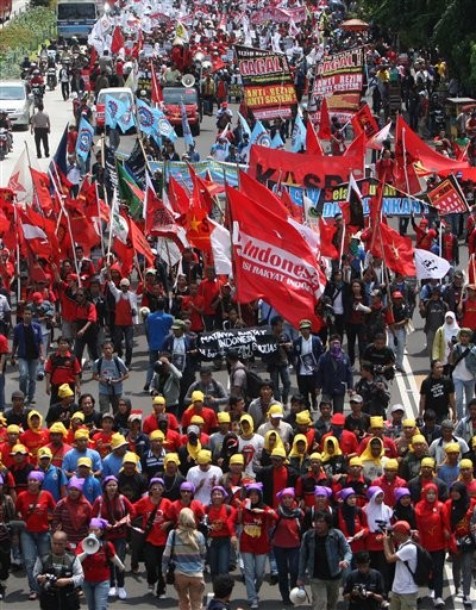 ---