Safeguard Indian interests in India-EU talks: CPI-M asks govt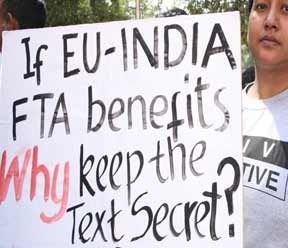 PTI | 08/02/12
Safeguard Indian interests in India-EU talks: CPI-M asks govt
New Delhi: The Communist Party of India (Marxist) on Wednesday asked the government not to conclude any "binding" Free Trade Agreement (FTA) with the European Union till all issues were discussed with representatives of the sectors which could be adversely affected.
In light of the "negative experience" of the India-ASEAN FTA, the CPI(M) expressed "grave concern on the total lack of transparency" regarding the negotiations that have preceded the India-EU Summit.
"While various assurances have been issued by the government stating that national interests will be safeguarded, there is very little hard information available to back up such claims," the party Politburo said in a statement here.
It urged the government not to conclude "any binding agreement with the EU until these and several other issues, critical to India's sovereign interests, are discussed by the government with representatives of all sectors who could be adversely affected".
The CPI(M) demanded that the government, before proceeding any further, should place in the upcoming Budget Session of Parliament a status report on the negotiations.
The EU-India FTA covers various sectors like trade in agricultural and manufactured goods, services, intellectual property rights, investment and government procurement.
"In each of these areas, concessions granted by the Indian government can have a deep and continuous effect on the livelihood of a very large number of people," it said.
The CPI(M) said the EU was seeking over 90 per cent of tariff lines to be opened up for tariff reduction.
Agricultural goods like cereals, dairy, poultry, fisheries and agro-processed goods were some areas that the EU was targeting, it said.
In the services sector, the EU was focussing on retail sector, banking, financial services, insurance, postal services and energy.
The EU was also pressing for data exclusivity in pharmaceuticals and agro-chemicals, "which puts domestic industry at a major disadvantage," the CPI(M) added.
---