Trade unions discuss EU India FTA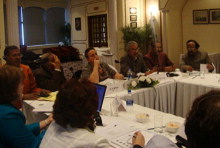 IMF Metal | 15.2.2012
Trade Unions discuss EU India FTA
IMF South Asia Office organized a workshop on EU India Free Trade Agreement on February 14 and 15 in New Delhi. Representatives of Indian national trade union centres and Indian affiliates of IMF, BWI, ITGLWF, UNI, ICEM exchanged views on trade policies and implications for development and employment with IMF affiliates from France, Italy, Canada, Argentina and Japan.
INDIA: The workshop, organized in the backdrop of the EU-India Summit on February 10, analysed developments in India's trade policy and ongoing EU India FTA negotiations. Concerns were expressed on the lack of transparency in the negotiation process and the absence of meaningful consultation with social activists, including trade unions and civil society organisations.
The possible negative impacts of EU India FTA were analysed with the focus on implications for employment, food security, impact on key industrial and services sectors such as automobile, SMEs and retail trade. Risks were also highlighted with regard to the loss of policy space and the possible elimination of export tariffs on raw materials, which would limit the country's ability to produce value added products and create skilled jobs.
On top of the unions' priorities is the protection of India's capacity to produce affordable generic medicines for domestic and other developing countries' markets. Concerns were also expressed on the limitation to fulfil development and poverty reduction objectives at the prospects for financial sector liberalization with consequent reduction in the country's ability to regulate the banking sector.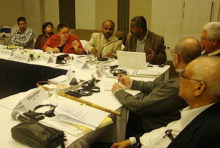 Trade unions from European countries shared the same concerns and the commitment to work together for significant improvements in the direction of the ongoing negotiations and denounced the complete lack of information and meaningful consultation.
Important contributions to the workshop were made by NGOs active in the areas of food sovereignty, foreign direct investment (FDI), financial services and health care. The contribution of the representative of the Society of Indian Automobile Manufacturers (SIAM) focussed on the business perspective and concerns, and paved the way for ongoing fruitful dialogue.
All participating unions asked the IMF South Asia office to continue promoting these exchanges between unions in different regions and coordinate the joint action of the Indian affiliates of IMF and other GUFs.
Feb 15, 2012 – G. Manicandan
---